Sake Bar Doron
Shinjuku, Tokyo
Sake Bar Doron is a full-service Izakaya, Japanese gastropub, and we offer a full-course pairing meal with sake, sake tasting class and more. It is run by an experienced Kaiseki Chef, Kaji, and Sake Sommelier, Yuma. 
Although our regular customers are mostly locals working in Shinjuku, we offer services in English to raise awareness of the deep & interesting sake culture to English-speaking customers from overseas. 
What our customers say about our sake bar
Super cozy place, English-speaking staff, and delicious variety of food and drinks. I don't normally drink sake, but I had 3 different ones here and really enjoyed the pairing with the food that was selected. I would say the sashimi platter was my favorite of the night. Highly recommend!!

Came in for a sake tasting. Yuma-san's knowledge and expertise is extremely clear. The bar itself is situated nearer the business side of Shinjuku. The sake selection looks vast ranging from new to aged and pasteurized and unpasteurized.

We really loved the fried puffer fish. The gyoza are the best in Tokyo, and their drink selection continues to have something for everyone, alcoholic or otherwise. Their staff is super sweet!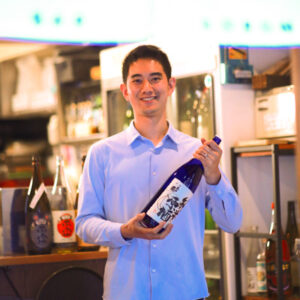 Yuma, Owner Sake Sommelier
Yuma started his career in Finance in Tokyo then started his own food tour company, Ninja Food Tours 7 years later. His passion for beverages started with Shochu distilled liquor when he was in college. Working outside Japan, he learned other types of alcohol like whiskey and wine and started building a greater appreciation for sake. He became a licensed sake professional in 2017 and opened his restaurant in 2018. Since then he has been involved in sake-making every winter and actively promoting sake through corporate events and weekly sake tasting classes and courses in Tokyo. 
He is also a culinary-trained sushi chef and professional knife sharpener and runs his own kitchenware shop.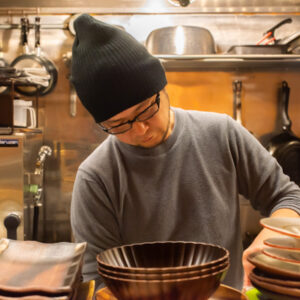 Kaji started his career at a Kyoto-style Kaiseki restaurant then became in charge of opening a restaurant in Hong Kong. He has more than 20 years of culinary experience including Kakise, Sushi, and Chicken Butchery. Putting his knowledge and skills altogether, Kaji serves a range of cuisines paired with sake ranging from traditional sashimi to Indian-style tandoori chicken. 
Experience the authentic sake culture in Sake Bar Doron in Shinjuku.