Experience the sake tradition with us
Sake Bar Doron is located within a walking distance from Shinjuku station, the downtown area of Tokyo. The venue brings a cozy atmosphere with only 23 seats.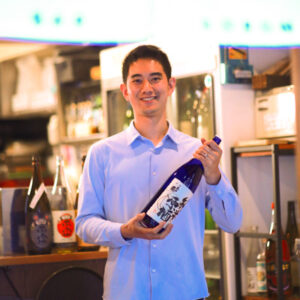 Yuma, Owner Sake Sommelier
Yuma started his career in Finance in Tokyo then started his own food tour company, Ninja Food Tours 7 years later. His passion for beverages started with Shochu distilled liquor when he was in college. Working outside Japan, he learned other types of alcohol like whiskey and wine and started building a greater appreciation for sake. He became a certified sake sommelier in 2017 and opened his restaurant in 2018. Since then he has been involved in sake-making every winter and actively promoting sake through corporate events and weekly sake tasting classes and courses in Tokyo. 
He is also a culinary-trained sushi chef and professional knife sharpener and runs his own kitchenware shop.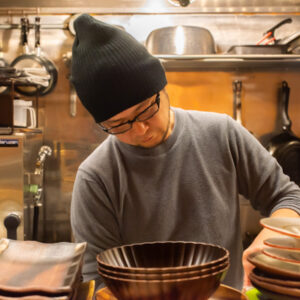 Kaji started his career at a Kyoto-style Kaiseki restaurant then became in charge of opening a restaurant in Hong Kong. He has more than 20 years of culinary experience including Kakise, Sushi, and Chicken Butchery. Putting his knowledge and skills altogether, Kaji serves a range of cuisines paired with sake ranging from traditional sashimi to Indian-style tandoori chicken. 
Do you want to dine with us?